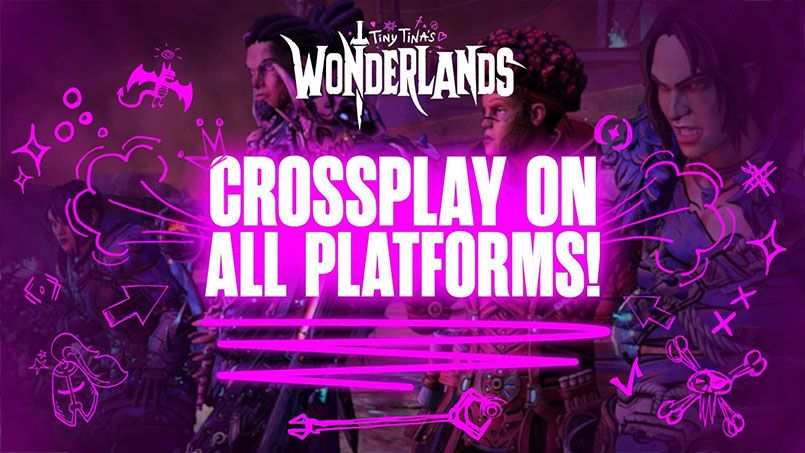 Fatemakers unite! We're thrilled to confirm that when Tiny Tina's Wonderlands launches on March 25, you can band together in online multiplayer for chaotic great crossplay between PlayStation 4, PlayStation 5, Xbox One, Xbox Series X|S, and PC via the Epic Games Store!
Crossplay between the aforementioned platforms is made possible by SHiFT Matchmaking, and you'll be greeted by an opt-in window when you first boot up Tiny Tina's Wonderlands. Regardless of whether you choose to enable or disable Crossplay, you'll be prompted to set a Crossplay Display Name, which is required for SHiFT Matchmaking functionality. Your Crossplay Display Name must meet the following requirements:
Must be a unique name not already in use by another Tiny Tina's Wonderlands player
Must be between 3-16 characters long
Must start with a letter, and is limited to a-z, A-Z, 0-9, or non-consecutive underscore, hyphen, or period/full-stop characters
You can change your display name on your personal account page on the SHiFT website, or in Tiny Tina's Wonderlands via the Social menu option from the main menu or pause menu. Simply click Social, switch to the SHiFT tab, and change your Crossplay Display Name in the Account Details section.
We hope you enjoy partying up with pals across platforms thanks to crossplay—when it comes to questing, the more the merrier!
Split-screen options
Go questing with your buddies in-person with local split-screen multiplayer for Tiny Tina's Wonderlands on consoles! For those playing on PlayStation 5 and Xbox Series X|S, you can enjoy shooting, looting, slashing, and casting with up to four players in local split-screen, while PlayStation 4 and Xbox One support two-player split-screen action. Regardless of which console you're playing on, you can choose between a horizontal or vertical split-screen orientation in two-player co-op!
PC specs
If you're planning to play Tiny Tina's Wonderlands on PC, you'll want to make sure your rig can run it properly. With the right setup, you can take in all the gorgeous visual details of the Wonderlands and the many environments of its world, bask in the razzle-dazzle magic spells and projectiles that fly across the battlefield, and appreciate the finer points of your Fatemaker's visage.
To help you get the most out of your machine, here's an overview of recommended specs for Tiny Tina's Wonderlands, featuring AMD Ryzen and AMD Radeon hardware: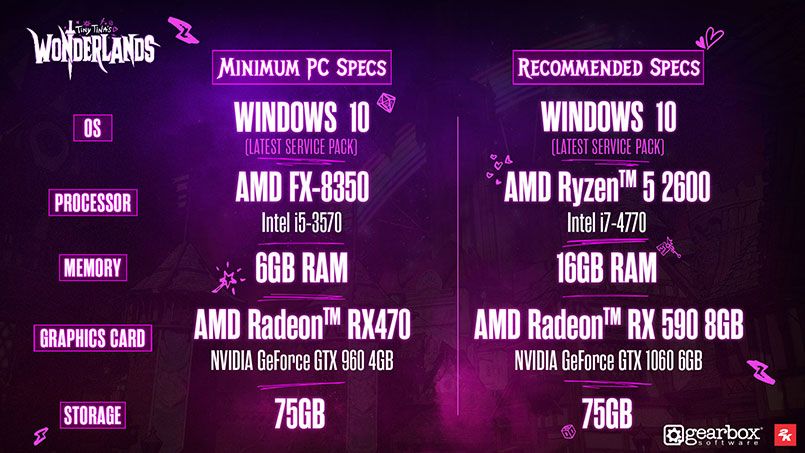 TINY TINA'S WONDERLANDS MINIMUM REQUIREMENTS:
OS: Windows 10 (latest service pack)
Processor: AMD FX-8350 (Intel i5-3570)
Memory: 6GB RAM
Graphics Card: AMD Radeon RX470 (NVIDIA GeForce GTX 960 4GB)
HDD: 75 GB
DirectX: Version 11
TINY TINA'S WONDERLANDS RECOMMENDED PC SPECS:
OS: Windows 10 (latest service pack)
Processor: AMD Ryzen™ 5 2600 (Intel i7-4770)
Memory: 16GB RAM
Graphics Card: AMD Radeon™ RX 590 8GB (NVIDIA GeForce GTX 1060 6GB)
HDD: 75 GB
DirectX: Version 11
Now that you've seen the specs, we'd like to share all the visual options available to you on PC so that you can further tune the graphics to match your machine's power.
BASIC
GENERAL:
Graphics API: DirectX 11, DirectX 12
Display: (varies by setup)
Display Mode: Full Screen, Windowed Borderless, Windowed
Resolution: (varies by setup)
Vertical Sync: Off, On
Resolution Scale: 50% - 200% in 25% increments
Limit Frame Rate: Smooth 22-62 FPS, Capped 30 FPS, Capped 50 FPS, Capped 60 FPS, Capped 72 FPS, Capped 120 FPS, Unlimited, Custom
Custom FPS Limit: default 90, minimum 15, maximum 300
Calibrate Display: Brightness and HDR
Field of View: default 90, minimum 70, maximum 110
ADVANCED
GENERAL:
Graphics Quality: Very Low, Low, Medium, High, Ultra, Badass
Anti Aliasing: None, FXAA, Temporal
Texture Streaming: Low, Medium, High, Ultra
Material Quality: Low, Medium, High, Ultra
Anisotropic Filtering: Trilinear, 2x, 4x, 8x, 16x
Shadows: Low, Medium, High, Ultra
Display Stats: Off, FPS, All (FPS, CPU, GPU)
ENVIRONMENT:
Draw Distance: Low, Medium, High, Ultra
Clutter: Low, Medium, High, Ultra
Terrain Detail: Low, Medium, High, Ultra
Foliage: Low, Medium, High, Ultra
Volumetric Fog: Low, Medium, High, Ultra
Screen Space Reflections: Off, Medium, High, Ultra
CHARACTERS:
Character Detail: Low, Medium, High, Ultra
POST PROCESSING:
Ambient Occlusion: Off, Low, Medium, High, Ultra
Camera Motion Blur: Off, On
Object Motion Blur: Off, On
FidelityFX Sharpening: Off, On